Committee & Event Background
The Festival
The Queenscliffe Literary Festival brings the best of established and emerging Australian literary talent to the Borough of Queenscliffe and the greater Bellarine community.
Held annually during the month of May, the Festival has become a recognised and anticipated cultural event on the local calendar.
The purpose is to curate a lively and intelligent season of events that stimulates discussion and to provide opportunities for engagement and participation.
The program aims to be inclusive, accessible, thought-provoking and diverse. It celebrates Australian literature across fiction, non-fiction, poetry, music and art delivering an exciting and diverse range of authors, artists, musicians and artisans to the Borough of Queenscliffe and the wider community.
JANE FINEMORE
Program Director
Jane Finemore has enjoyed an extensive career in book publishing working in major publishing houses in Sydney and Melbourne as well as spending ten years at the ABC. She has had the privilege of working and travelling with many leading writers and thinkers including Amy Tan, Lionel Shriver, Jeffrey Eugenides, Helen Garner, GRR Martin, Simon Winchester, Rosie Waterland, Rosie Batty, Annie Proulx, Magda Szubanski and Jonathan Franzen. Jane loves reading and working with authors so programming the Queenscliffe Literary Festival is an unmitigated pleasure for her.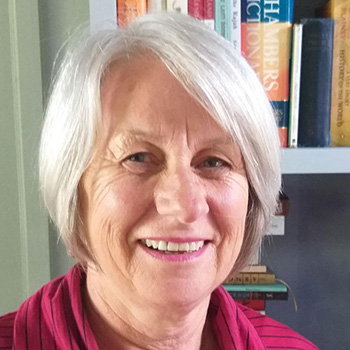 PAULINE NUNAN
President and Partnerships
Pauline Nunan is a former teacher and has been involved in international education as a university marketing and recruitment manager for many years with extensive experience as an events manager. She has long been an avid reader, a book club member and loves attending writers' festivals and book events. Pauline is widely travelled and always enjoys reading novels about the places she visits as well as more conventional travel and culture books. Her reading interests vary widely from crime fiction to contemporary fiction, biographies, history and politics. Recently Pauline moved permanently to Queenscliff after being a regular visitor for 10 years. She is delighted to be living in such a vibrant and interesting community.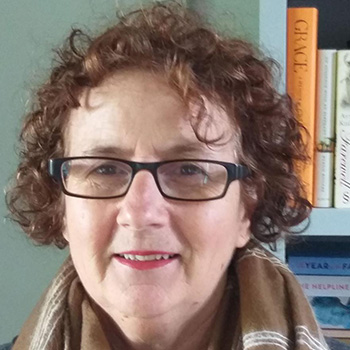 MARG BOWMAN
Vice President
Marg Bowman's abiding interest in the arts and love of books led to a career in book publishing and the visual arts. In late 2014, after an engrossing two and a half decades living in Alice Springs and Sydney, Marg returned to the fold of her home state Victoria. In Alice she worked with Indigenous publisher IAD Press/Jukurrpa Books, and in Indigenous visual art at Papunya Tula Artists, Artback NT and Tjanpi Desert Weavers. A major highlight was editing and compiling the book Every Hill Got A Story, an Aboriginal peoples' account of their lives and recent history in Central Australia. On her return to Melbourne, Marg became managing editor at Hardie Grant Publishing. She has recently re-established her own freelance editing business and maintains her ongoing engagement with Indigenous art and writing. Marg divides her time between Melbourne's diverse inner city and the seaside tranquillity of Point Lonsdale.
DENISE BETT
Secretary
Denise Bett commenced working life as a volunteer at 3RRR on the feminist magazine style program, On the Common, and has worked extensively in the university and community sectors, advocating for social justice, in education and employment. An avid reader and writer; gardener and trained narrative therapist, Denise enjoys reading widely, in search of a riveting and engaging story.
PAULINE PARKER
Treasurer
Pauline Parker has been a teacher, university tutor and lecturer, an Australian Volunteer in The Maldives, a dish pig and, currently, a passionate bookseller. Pauline spent many years working to improve teaching capacity in NT remote community schools and is an enthusiastic reader of all First Nations writing. Having published a book based on her PhD, Pauline is once again focussing on her own writing as she continues to read widely in her current position.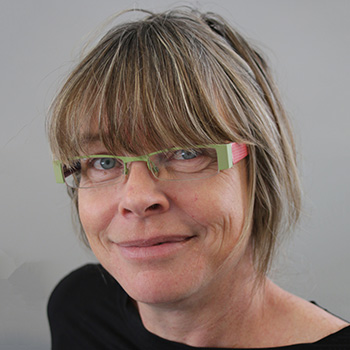 COLLETTE STEWART
Grants
A bookworm with a travel bug, Collette Stewart's passion for tourism, events and the arts combined to create a diverse, satisfying career. A key contributor to the travel book Going Solo a Guide for Women Travelling Alone, she publicised the joys of solo, safe and cultural travel. Working for the Australian Tourism Commission, based in London, Collette marketed Australia as a travel destination to the UK and Ireland travel trade, along with promoting the Sydney 2000 Olympic Host City Campaign. Returning home, she utilised her event management, marketing and sponsorship skills to promote commercial events such as The Good Food and Wine Show and cultural events including the Melbourne Comedy Festival, Midsumma and the Melbourne Writers Festival. An avid snorkeller, stingray spotter, and backyard birder, Point Lonsdale is her perfect home base.
JACINTA FARRUGIA
Committee Member
Jacinta has lived in Queenscliff for 30 years and has been strongly involved in the local community, was chair of Queenscliff Neighbourhood House for ten years and as a volunteer and team leader for the Queenscliff Music Festival. She has a passion for early childhood and primary education and has worked as a teacher with a focus on encouraging participation in the Arts. She has also been a marine educator, and a presenter and producer of science and technology programs for the Education Department. Jacinta is enjoying being part of the Queenscliffe Literary Festival Committee and especially providing support for the local in-school days program.
ROSANNE OTT
Volunteer coordinator
For over 30 years, Rosanne Ott (Rose) has worked alongside people experiencing disadvantage with a focus on social and economic inclusion for all Australians. She has held various roles in community organisations and has led new initiatives for State and Commonwealth Governments in the disability and mental health sectors.
Rose, and partner PJ, came to Queenscliff in 2012 drawn to the coastal environment and the chance to love in another charming historic village as they had previously in England and America.
Rose has a passion for life-long learning and has co-ordinated and presented at various national and international conferences. The move to Queenscliff has provided opportunities to continue this journey with involvement in the many cultural events on offer in and around the Bellarine. Rose has enjoyed participating in the Tides of Welcome Choir and Queenscliff Music Festival events and since 2018, she has been the Chair of the Bellarine Lighthouse Film Festival. The close proximity to Melbourne has also been a huge advantage as both Rose and PJ enjoy being part of a fabulous network in the contemporary art scene.
HEATHER MACLEOD
Committee Member
Since being captivated as a child by bedtime stories and the tales of her clan passed on by her father, Heather has always recognised the power and importance of storytelling. This has led to a longstanding love of books, bookshops and the magic of literature.
Committed to building community connection and creativity, she has worked as a support worker, teacher and project manager, and was the co-founder and co-director of the Ballarat Apron Festival.
Now, after a career in Adult Education and the Community Services, Heather is excited to share her passion for storytelling and encouraging creativity by joining the committee of the Queenscliffe Literary Festival.
Associate committee members:
VIV FOGARTY: ticketing
PIP MAY: media co-ordinator